Bosch Gets Extreme – The MIC Series Now Available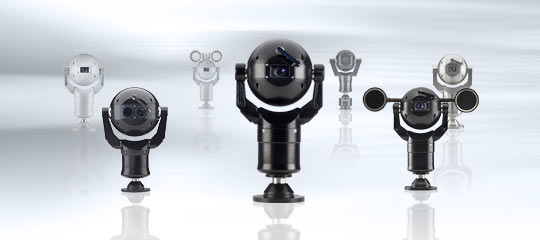 The recent acquisition of the Extreme CCTV group by Bosch Security Systems allows Bosch to expand its already extensive CCTV portfolio to satisfy an even wider base of applications and needs.
Innovation

The MIC Series of fully functional pan/tilt/zoom (PTZ) cameras contains a best fit solution for virtually any application, including harsh and unforgiving environments. Split into easy to specify ranges - aluminium, infrared, stainless steel, under water, public address, thermal and ATEX/NEMA 4x certified - its never been easier to specify the correct camera for the job at hand.
With near-silent operation, ultra-smooth control and pin-point accuracy all ranges within the MIC Series are precision engineered to the highest standards and offer a host of unique features and benefits to the user.
Field proven in countless applications the MIC Series is currently protecting property, ensuring safety and safeguarding communities all over the world.
Benefits
Seamless system integration
Featuring a host of protocol options the MIC Series is compatible with all leading control equipment. A Bi-phase converter is available to allow full integration with Bi-phase Bosch control systems. IP integration is also achievable through systems such as BVMS and ViDOS.
Perfect operation, even in harsh conditions
With solid construction, integrated wiper options, optically perfect flat viewing window, IP68 rating and brushless motor technology the MIC Series is built to last. Proven reliability in applications as diverse as the coldest coastlines to the hottest deserts ensures that you get the picture you need regardless of the environment
Features
Flexible surveillance, precision engineering
Seamless integration with Bosch control systems and Bi-Phase compatibility
Brushless motor technology* for ultra-reliable, smooth and whisper quiet operation
Optically perfect, flat viewing window with integrated wiper option for the perfect picture, regardless the weather
Full 360º continuous rotation pan and 320º tilt control
Rated to an industry leading IP68** for use in even the harshest conditions
Faultless operation mounted either upright or inverted. Certain ranges have a canted option for pole mount applications
Multi-protocol operation – compatible with all leading control systems
Plug and play cable containing video, telemetry and power
Vandal resistant
Full range of brackets and accessories available
*Not included in MIC440AX
** MIC412TI/TF rated to IP67
Applications

With eight unique ranges forming the MIC series - (aluminium, stainless steel, underwater, ATEX certified, static, infrared, public address and thermal) – a suitable camera solution can be found for virtually any application.
Traditional CCTV
Town centres, car parks, traffic and highways monitoring, shopping malls, schools
High security
Police HQ, embassies, airports, nuclear, critical infrastructure, government buildings

Marine environments

Ports, seafronts, harbours
Extreme environments
Coastal surveillance, wet and rainy outdoor surveillance, corrosive environments
Architectural
Modern buildings, integration into bespoke building fixtures
Rapid deployment
Police vehicles, building site security, perimeter security, events
Prestigious developments
Museums, visitor centres, science parks, heritage town centres