Bosch Gets Extreme – CCTV Illumination Now Available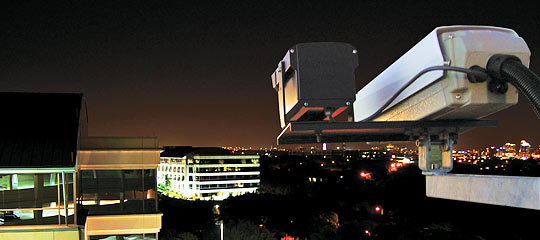 The recent acquisition of the Extreme CCTV group by Bosch Security Systems allows Bosch to expand its already extensive CCTV portfolio to satisfy an even wider base of applications and needs.
Innovations

Today's surveillance systems demand 24/7 effectiveness. A complete range of infrared and visible white light illumination from security lighting specialists Derwent Systems is now available from Bosch.
Featuring innovative lighting technology and installation friendly design, Bosch illuminators are designed for long life, high reliability and low maintenance and are field proven in critical security applications worldwide to enable unrivalled night-time surveillance.
Benefits

Complete range of LED and long life quartz halogen bulb based illumination
Even Illumination across the cameras entire field of view
Patent pending illumination technology
Low power consumption for greener, more environmentally friendly lighting
Semi covert and covert infrared options prevent light pollution and enable undetectable night-time surveillance
Visible white light acts as a deterrent to criminal activities
Suitable for internal and external surveillance
Enables the optimum night-time performance of analogue and megapixel cameras, IP platforms and video analytics
Features

Black Diamond* micro-refractive lens technology bends and shapes light for wider beam patterns, increased range and Even Illumination
Patent pending Constant Light** technology automatically compensates for LED degradation
Built in 12/24V AC/DC regulated power control circuit** can eliminate the need for a separate PSU for quicker, more aesthetically pleasing installations
Long life quartz halogen bulb and LED based illumination
Range of beam patterns for complete area coverage
Semi-covert, covert and visible white light options
Low power consumption for greener, more environmentally friendly lighting
* Select products
** AEGIS
Applications

Town and city centres
Critical infrastructures
Correctional facilities
Ports & harbours
Airports

Perimeter surveillance
Schools and colleges
Car parks and forecourts
National heritage sites
Retail
Wherever evidentiary quality night-time surveillance images are required