AlgoRex® - Foolproof early fire detection

Celebrated back in 1994 as a world first, it soon conquered the globe. Foolproof early fire detection filled everyone with awe and soon proved itself in practice.
Overview
Risk limitation can save lives

Most of the time, appropriate construction alone isn't enough to prevent fires. Often, fire detection systems are needed to keep risk at acceptable levels. The higher the fire risk and the greater the potential for collateral damage, the greater the need for an early warning fire detection system.

Not only does a reduced risk level limit danger to life and limb, it ensures the very existence of a company. The greater the concentration in one place of production, stocks and IT, the higher the chances of a single fire ruining a thriving business.


Keeping a mere flame from becoming a catastrophic fire


The earlier a fire is detected, the faster and more readily is it extinguished – and the fire itself, or the extinguishing process, prevented from causing major damage.
But speed alone isn't everything. The more sensitive a fire detector is to smoke, elevated temperatures or gases, the easier it is for dust, steam or heat to fool it. False alarms cost time, money – and nerves. Not to mention that you can never quite trust such a system again.
But AlgoRex® fire detection systems have seen to it that those days are gone forever. Our systems only react to real events. Deceptive phenomena are assessed and rejected without losing a beat.

Benefits at a glance


Unique advantages, including genuine algorithms, interactive system technology, distributed intelligence, neural network and others.
Programmable algorithms and modularity, new requirements can be accommodated quickly and simply as they arise.
Backward compatibility, along with modernization software, help keep your system at the cutting edge of performance.
Low operating and maintenance costs.
Innovations

We keep perfecting AlgoRex® because to stand still is to take a step backwards

We have conducted basic research into fires and associated phenomena for more than sixty years. Which accounts for the constant stream of revolutionary new products and applications emerging from Siemens Building Technologies.
Take AlgoRex®. Celebrated back in 1994 as a world first, it soon conquered the globe. Foolproof early fire detection filled everyone with awe and soon proved itself in practice. Today, millions of users depend on AlgoRex® completely.
Nor did we rest there. We recently started using algorithms to address extremely challenging situations, e.g. clubs or discos that use artificial fog. Special effects such as these setting off false alarms is a thing of the past. Present AlgoRex® installations are readily retrofitted with new algorithms when they are put to a different use.
Another innovation is
TeleRex®
, the wireless fire detection system. As reliable as hardwired fire detectors, it is the perfect answer for museums and buildings of historic significance.
Operating terminal development hasn't stood still either. We soon took fast, error-free operation one step further by doubling screen size to make information easier to read and, should an event occur, added step-by-step instructions on what to do next.
In addition, remote diagnosis using new communications channels adds to the convenience – and speed – of servicing and maintenance by our service technicians.
By making it possible to add more operating centers and operating terminals, existing systems have become more flexible and adaptable to expansion or changes of use.
These few examples of recent AlgoRex® developments clearly show that instead of resting on our laurels, we produce a neverending stream of highly effective innovations.
System overview
Algorex® system overview

Planners and installation contractors find T branches in the detector line and the associated, system-based flexibility a convincing argument. The free arrangement of the detector network helps to reduce the cost of wiring and installations.
Fig.:
System with detectors on the detection level, fire panels on the evaluation level and a control level e.g. with a Danger Management System
Fire Detectors
Fire detectors overview
AlgoRex detection algorithms distinguish between real fires and deceptive phenomena every time, and well beyond the requirements of the six EN standard test fires. Common features:
ecologically sound choice of materials
modern design
long life
high resistance against electromagnetic interference, moisture, corrosion and dirt
There are three different AlgoRex detector technologies.
Collective technology:
Collective detectors are ideal for straightforward applications and low fire risk situations. Smoke and heat detectors using technology for detection within standard limits are reliable and of proven design.
Features of the collective detector series:
high degree of reliability due to high-quality, optoelectronic sensor system



Fig.:
AlgoRex collective system
AnalogPLUS technology with detection algorithms:
AnalogPLUS detectors with detection algorithms are ideal for moderate-risk applications with moderate levels of deceptive phenomena. Addressable smoke and heat detectors feature multi-stage, intelligent signal evaluation. Centrally selected, detector-specific sensitivity adjustment, alarm verification and multiple detector linkage render AnalogPLUS detectors reliable and impervious to deceptive phenomena.
Features of the AnalogPLUS detector series:
top reliability due to a high-quality, optoelectronic sensor system
pre-programmed detection algorithms
signal processing at detector and processing center levels make for superior reliability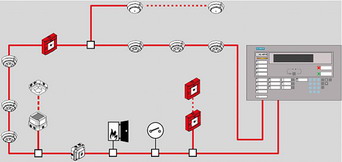 Fig.:
AlgoRex AnalogPLUS system
Interactive technology, application specific algorithms:
Interactive AlgoRex detectors are used whenever demanding situations and high fire risk call for trustworthy alarms and detection. In other words, no false alarms ever again.
AlgoLogic, the evaluation and decision-making logic based on programmable application algorithms, combined with interactive signal processing, makes for dependable detection and elimination of deceptive phenomena in our interactive AlgoRex detectors.
Features of the interactive detector series:
optoelectronic sensor systems ensure superior reliability
detector-processor-stored, application specific algorithms
automatically self-testing, built-in diagnostic algorithms
unmatched immunity to deceptive phenomena and situational factors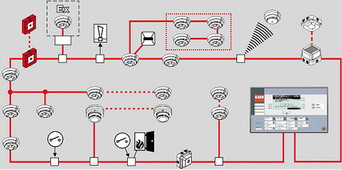 Fig.:
AlgoRex interactive system
Application areas
Nearly all:
Clean, moderate, and harsh ambience
Small to large installations
Algorex references

Banglaore Airport, India
A One Siemens Project - everything out of one hand:
1500 smoke, heat and flame detectors
Danger Management System (DMS)


Berliner Tor-Center, Hamburg, Germany
Building Automation and Fire Safety Project:
approx. 3000 smoke, heat and flame detectors
Evacuation with over 300 loudspeakers

Jin Mao Tower, Shanghai, China
Solid design from the beginning:
over 100 control panels
smoke detectors
manual call points
Service
Contact
Downloads